"Therefore you are to be perfect, as your heavenly Father is perfect" (Matthew 5:48; all Scripture quotations are from the New American Standard Bible).
"Speak to all the congregation of the sons of Israel and say to them, 'You shall be holy, for I the LORD your God am holy'" (Leviticus 19:2).
"As obedient children, do not be conformed to the former lusts which were yours in your ignorance, but like the Holy One who called you, be holy yourselves also in all your behavior; because it is written, 'YOU SHALL BE HOLY, FOR I AM HOLY'" (1 Peter 1:14–16).
Over the last few months, this blog has discussed what some theologians refer to as God's majestic attributes, the qualities that set Him apart from everything He created. These include His omnipotence (being all-powerful), omniscience (being all-knowing), omnipresence (being present everywhere), and His eternal nature (everything besides God has a beginning; He has no beginning and no end).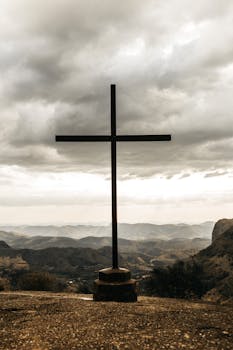 Theologians will refer to some of God's other qualities as His moral attributes, including His holiness, love, justice, goodness, mercy, etc. These qualities make God truly worthy of our worship. Omnipotence without justice or love would produce the worst tyrant imaginable. Omnipresence without love and mercy would give us no hope of escape; because of God's love, His permanent presence makes Him a refuge to which we can flee. His majestic attributes set Him above everything He created. His moral attributes allow us to worship Him and take comfort in His presence, power, and wisdom.
On the other hand, the distinction between God's majestic and moral attributes is somewhat arbitrary. Each of God's qualities is an essential part of who He is. He does not slip between His majestic and moral attributes as different circumstances arise. He is always all-powerful, all-knowing, all-present, eternal, holy, loving, and righteous. God does not fragment Himself and exercise only one or two of His attributes at one time, then switch to a few others as the circumstances dictate.
One clear distinction exists between God's majestic and moral attributes. God urges His children to share in His moral attributes. In Matthew 5:48, Jesus told His disciples to be perfect, even as the Father is perfect. (If you think "perfect" here means sinless, or if you are prone to perfectionism, please read this post. God will love you even if you sin.) We should love others because God is love. We should forgive as we have been forgiven. The child of God should desire to be like his heavenly Father.
Several forthcoming posts will look at some of God's moral attributes. As we consider them, we must remember that a proper definition of His qualities is necessary. The Bible tells us that God is love (1 John 4:8, 16). We will get some bizarre ideas if we define love the wrong way; the love of God should not be confused with the ideas of "tolerance" that are popular nowadays, or with the distorted "love" of a child molester, or with my undying love for cream-filled doughnuts. Nor, when we think of God's holiness, should we mistake it for the self-righteousness arrogance of some religious people who claim to be holy. God is the ultimate example of love, justice, holiness, and goodness; we should not expect Him to submit to our culture's expectations and standards.
As we reflect on who God is and what He is like, may we be drawn to become more like Him and be the people He made us to be.
"But we all, with unveiled face, beholding as in a mirror the glory of the Lord, are being transformed into the same image from glory to glory, just as from the Lord, the Spirit" (2 Corinthians 3:18).
Which of God's attributes inspire your life and worship most? Feel free to share by clicking the "Leave a comment" link below.
Copyright © 2020 Michael E. Lynch. All rights reserved.